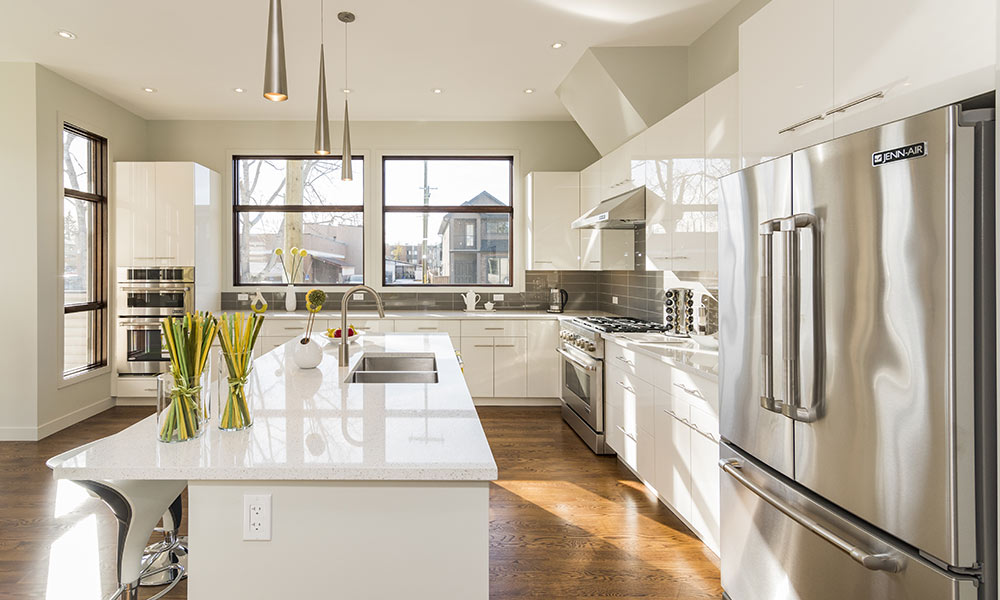 5 Common Kitchen Design Mistakes To Avoid
Planning a kitchen remodel? We'll discuss 5 of the most common design and remodeling mistakes, so that you can take the necessary steps to ensure you're left with the fully functional and gorgeous kitchen you've envisioned.
Mistake 1: Form Over Function
When you are doing any sort of remodel, it is natural to want a beautiful end result. However, don't focus exclusively on the aesthetics and forget about making it work for you.  You can have the most beautiful kitchen in the world, but if it doesn't work for your every day life, you will be unsatisfied in the end.  In some cases it will actually create more work for you doing your basic everyday tasks.
A great example is for your food prep area.  You will want to make sure your stove, refrigerator and prep counter are in close proximity so that you won't need to constantly run around the kitchen to get items while you are cooking.
Another common mistake is to not considering how your appliances will open.
Make sure you can open your refrigerator and nearby cupboards at the same time.  While this may seem like an obvious consideration, it is a very common design slip up which could cause you not only frustration but also more money to fix later on.
Mistake 2: Backsplashes, Ventilation and Electrical Outlets
Ovens can create a mess, which is why your remodel should include plans for making it easier to clean the air and surfaces.
A good backsplash will be durable and make cleaning the spatters, oil, and grease around the stovetop significantly easier.
Good ventilation is the next step you'll want to prioritize when you're doing a kitchen remodel. Some ovens may come with a hood which re-circulates air, but it doesn't truly clean the air. Investing in a good ventilation system will help pull the odors out of the air.
Finally, with our modern lifestyle comes the need for power.  Adding extra electrical outlets for your blender, can opener and smart device will really make your kitchen a better workable space. Additional outlets can be hidden within the island, backsplash or in a drawer for those times you need another nearby socket available.
Mistake 3: Inadequate Lighting
Good lighting not only makes it possible to prepare food more efficiently, but it also keeps you rejuvenated. Pay attention to lighting sources over your oven and countertop areas where you will be spending the most time.
Pendant lights are great for illuminating prep areas, while under-cabinet lighting can show off and accent some of the design elements that you love the most.
Mistake 4: Overlooking The Trash
The last thing you want to see as the focal point of your newly remodeled kitchen is your trash.  If you have room in your cabinets, having one dedicated to trash and recycling is ideal for keeping unsightly garbage tucked away.
If a cabinet is not an option, consider a dedicated place in your kitchen.
Mistake 5: Making Changes During Construction
Once your kitchen remodel has begun, the cost of making changes can skyrocket.
After you have signed off on your materials, they will be ordered, received and staged to begin your remodel. Changing your mind can not only bring your project to a halt, it can also have extra fees including restocking feels and delays.  Because of this, it is always best to take your time and get it right the first time.
A kitchen renovation not only boosts your homes monetary value but it also makes your home functionally easier.  On the other hand, a bad renovation can be a stressful mistake. This is why it is so important to avoid these mistakes before starting your kitchen remodel.
Ready to talk? We're here to help!
If you would like to speak to our contractor about how we can build you the kitchen of your dreams, do not hesitate to call us.
Latest Blogs:
tori@sequeldesign.com
Planning a kitchen remodel? We discuss 5 of the most common design and remodeling mistakes, so you're left with the beautiful kitchen you've envisioned.
tori@sequeldesign.com
While learning new skills and trying to save money is always a good thing, sometimes DIY projects can leave a lot to be desired and potentially create more issues in the future.
tori@sequeldesign.com
Do you find yourself unsatisfied with your bathroom, maybe you have outgrown it, maybe it lacks storage? Here are 3 signs that you may need a bathroom remodel.